Welcome
This is the site of the FMC Motorcoach Owner's Club, a charter club of Family Motor Coach Association.

Although primarily a place for our members to share information and photos, visitors are welcome to browse our files for useful information about this unique coach that we all love to restore, drive, and restore some more.

We hope you enjoy your visit, and encourage you to contribute or send us your comments.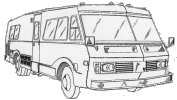 Highlights:
June, 2010: Our FMC Rally made the local news. See it on YouTube!
August, 2010: Family Motor Coaching Magazine August edition has an article on the FMC motorcoach and Owner's Club Read It Here!